Recently, a brand new playground was completed at Elm Creek. It was conveniently placed very close to the baseball fields. The idea for the placement was to allow parents that are at the park watching a ballgame to feel more comfortable allowing their children to play at a closer and safer distance.  The new playground is covered in a shade canopy to allow for more enjoyable playtime in the intense Texas sun.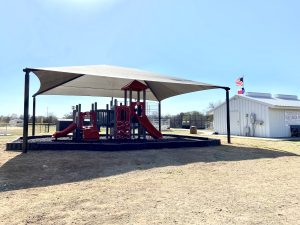 Funding for the new and renewed park equipment came from the Alvord Economic Development Corporation.
The playground that is located a little further from the ballfields has been revived. All the equipment was cleaned and new bedding was added.